Description
If you love photography, then you are in the right place! We'll show you the BEST, EASIEST and FASTEST ways to edit your favorite images!
Welcome to Editing in Adobe Camera Raw.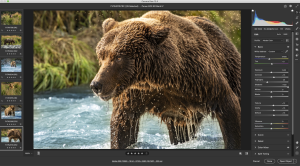 Adobe Camera Raw (ACR) is the powerful software engine for editing your photographs non-destructively. It is the foundation of LightRoom, Bridge, and even Photoshop when they are called upon to process Raw file types such as Nikon's .NEF,  Canon's CR2, Sony's .ARW, and more than 300 others.
This course will deliver the core tips for professionally editing your images in a way that could never harm your photos. Photoshop is a destructive editor, nonchalantly tossing colors, data, & tones without hope of recovery. ACR avoids this terrible fate. Learn to batch process multiple files, batch preview, even rescue and fine-tune images better than the pros!
In this course you will learn:
Destructive vs Non-Destructive
Lightroom vs Bridge
Editing in Camera Raw
ACR (Adobe Camera Raw) Tools & Panels
ACR Preferences & Settings
The Killer Tools
AND SO MUCH MORE!
Why learn from me?
Rick Burress has consulted and taught professional photographers for over 30 years. His work has appeared in the award-winning Arizona Highways Magazine, and is a published author and consultant.
Wait, there's more…..
Also included, are BONUS videos!
Are you ready to create stunning photography?
In this series, Rick teaches Editing in Adobe Camera Raw in three 30-minute sessions:
Part One:

Destructive vs. Non-Destructive
Lightroom vs. Bridge
Workspaces in Bridge
Editing in Camera Raw
ACR Tools
ACR Panels
Camera Raw Preferences and Settings
Review
Change File Type Associations for best efficiency

Part Two:

ACR Sliders
The Histogram
Contrast
Highlights & Whites, Shadows & Blacks
Histograms on DSLRs are inaccurate
"Done" is not "Save"
Save Snapshots
Edit tonal Ranges independently
Apply Artificial Intelligence to your Sliders
Snapshot Shortcuts
Drastic Sample Edits
JPEGs toss "crayons"
Batch Processing
Review
Sliders are "Global" Edits

Part Three

"Loose Ends"
Digital Negatives, .DNGs
Photo Downloader
See and Save Global Presets
Shortcuts for Brush size and hardness
Define your Hero
Preview Shortcut
Clarity—the king of edits
The Killer Tools!
The Adjustment Brush Tool
The Graduated Filter Tool
The Radial Filter Tool
The Targeted Adjustment Tool
The Guided Upright Tool
Opening Raw from ACR into Photoshop
Open as Smart Objects into Photoshop
"Fake" Camera Raw
Workflow Options
Review

5 Bonus Videos:

Leveling and Crop Overlays
Local Presets
Multiple Adjustments on Single images
Batch Process Globally, including Color Correction in about one second
Lightroom-to-Photoshop and back, vs. Bridge-to-Photoshop and back
I look forward to seeing you in class.
- Rick
You get full unlimited access to this course forever!