When does $7 feel like a million bucks? After a quick lunch in the small town of Waytoe, in Ethiopia's Omo Valley, I arose from my chair and went back into the blazing sunlight, stepping onto the small dusty dirt road that ran in front of the local restaurant. It really was blazingly hot, a dry hot too, a wonderful 102 degrees; seriously, I can't get enough of hot dry weather!
As I came to the first of two cross roads, my eyes caught site of a north facing structure to the right, a brightly painted yellow structure and as I got closer, I saw mostly young people coming and going in and out of the structure, what prove to be a bright yellow coffee shop. One young woman, (and a younger acquaintance) both standing outside the entrance, she dressed in an equally bright yellow dress, also holding her infant son, who was wrapped in a blue blanket (image 2) and within seconds, I had expressed excitement to the woman in yellow at the prospect of having her 'pose' inside the coffee shop while looking out the window which is seen over her shoulder in that second image.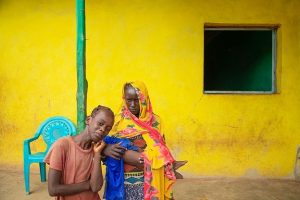 She was quick to oblige yet I sensed an underlying stress, and felt the need to ask again if she was really okay with posing for me in the window and she then smiled, briefly and again said very calmly, "yes" and this first image you see here was the result.
Despite her assurances, I could not shake the thought that something was troubling her and normally I would not press a stranger but this time I did and I learned that her baby was quite ill and she was desperate for medicine, and was awaiting the arrival of her sister who was bringing the much needed medicine from another village 17 miles away, but a two day journey on foot! When I asked if that same medicine was available here at the small pharmacy just off the main road and only a block and a half from where we stood, she said it was, but she could not afford it which is why she was waiting on her sister. Needless to say, I could not pay for the medicine fast enough, in addition to giving her additional money's for food; a whopping $7 from my pocket to hers, but damned if it didn't feel like I had just given her a million bucks!