When shooting on the streets, sometimes my subject is 'confined' to a given area and then the challenge can become even greater to find a clean background, and when all else fails, I have been known, with the help of an assistant or two, to suspend some fabric behind the subject, much like one would hang fabric or seamless paper behind the subject in the studio.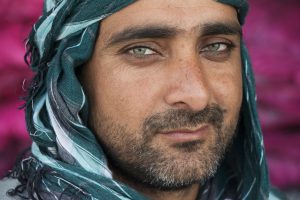 However in this case, my eyes caught sight of a large stack of burgundy colored sacks filled with red onions which were behind the subject. Considering his eye color and his headscarf color, both shades of green, the burgundy colored sacks could create some wonderful color contrast.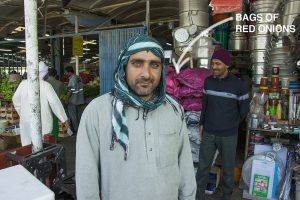 Shifting point of view, a bit left, a bit down, I was soon able to frame up on both sides of my subject some of that welcomed burgundy color, again, in welcomed contrast to the shades of green that are evident in his headscarf and eyes. 
Nikon D810,Nikkor 70-300mm at 300mm, F/6.3@1/640 sec. 200 ISO