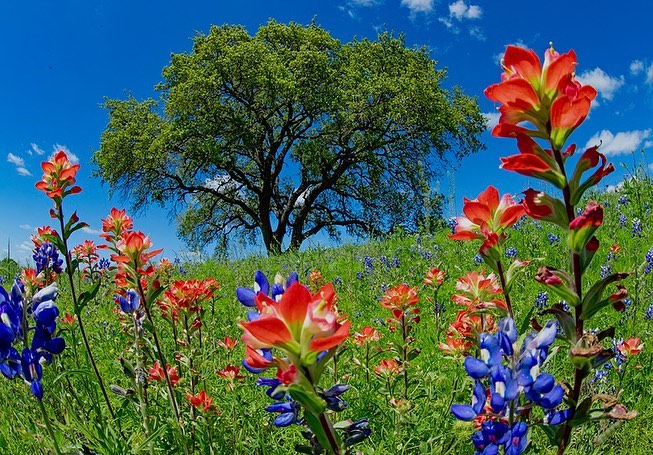 Assuming you own one, your ultra-wide angle lens absolutely LOVES to offer up a front row seat to your viewing audience, but more often than not (and much to the chagrin of your ultra-wide angle lens) you DO NOT think of that lens as a CLOSE-UP lens, but rather as a "lens with a wide and expansive vision. It's my 'star gazing' lens!" is what I hear often lately.
But WHEN you realize that your ultra-wide can produce compositions of extreme sharpness, from 9" all the way to infinity, you will soon be on the lookout for subjects that can in fact be the LEAD subject, the "opening line" of what will be a composition that tells an epic filled wide and sweeping story about the world you live in, making certain to move in close to a foreground subject, thus giving it a much louder voice, a voice that shouts both a memorable and attention getting "opening line!" That is certainly the case with the "opening line" of these Indian Paintbrush and BlueBonnet Flowers and to help you further to understand the ease of creating shots like this, I have attached a short video, (slide first image to the left) and for effect, I even added some suspenseful music-hahaha. Enjoy! You keep shooting-even indoors! Stay safe!
Nikon D850, Sigma 15mm, F/22, manually focused at one-meter, Aperture Priority, as its a front lit scene, Daylight/Sunny WB.