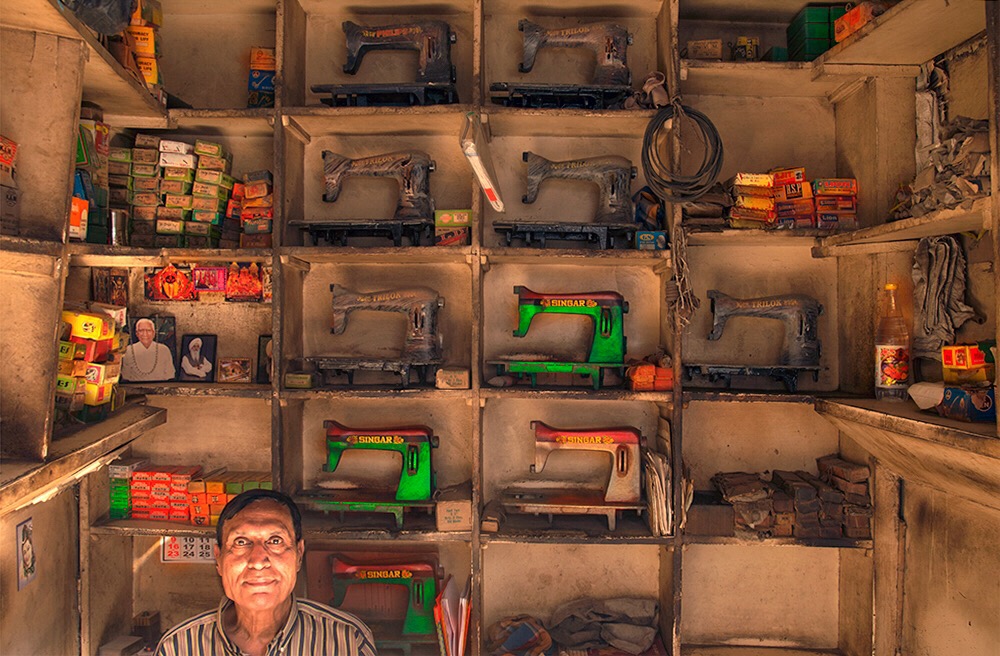 It was the wall of sewing machines that got my attention, as if they were a collection of trophies, yet I soon learned that these Singar sewing machines were in different stages of repair.
The man who was responsible for their repair is seen here in this photo and although not visible he is seated at his highly reflective metal desk, and as the early morning low-angled sun light came in the direction of his shop the sunlight hit the metal desk, and in the same manner of a reflector disk, the light bounced upward, illuminating his face with the warm light.
I chose to shoot his portrait against this patterned backdrop and thus would need a moderately wide angle lens so I used my Nikon D810 and Nikkor 24-120 at 35mm focal length and the importance of the man is further amplified by the pattern of sewing machines that surround him since he does not fit the pattern; as if he is now the 'lead vocalist' and the sewing machines are background 'Singars' (pun intended).
One of my favorite haunts in all of India, I came upon him on one of the many back-alley narrow streets at the 4,000 plus year old Chandni Chowk Market on Old Delhi, India. You keep shooting!